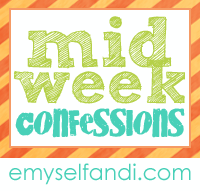 This week, I confess...

-I've spent way too much time searching for the perfect laptop bag. I just can't find a nice bag that is big, but not too big and doesn't scream "I'm holding a computer!". Oh, and would be great if it was either a nice tan leather OR one of my favorite colors with a shoulder strap. Impossible?
-
I just learned that I will be out of town on both my birthday and my anniversary this year for separate work events. This is odd because my birthday is exactly a week before my anniversary and I usually don't have much going on in October at work.
-I went to Havana's for lunch yesterday and almost finished the half order of BBQ chicken nachos... by myself. Let's just say that wasn't a point-friendly move.
-Speaking of food, I've been counting down to a friend's birthday dinner at Yardhouse tomorrow night. I've even anticipated having a light dinner tonight and being really good tomorrow just to prepare for it. Yep, I love Yardhouse that much.
-We have friends who moved to Hawaii this past summer and I've been thinking more and more how much I want to visit them. The main thing to know about this couple is they have a baby on the way this June and I was sort of removing that factor from my mind so I could pinpoint the perfect time this summer to visit. I mean new parents don't mind guests, right?
-I branched out and tried something other than the avocado cucumber roll from the Sakura Elite cart in the mall. I ordered the "Number 6" which is one avocado cucumber roll and one sweet potato roll... and ladies and gentlemen, I think this might be my new regular order there. Oh, and by "regular" I mean I may or may not let myself eat there once a week, but I'm not willing to fully disclose that information at this time (midweek confession or not).
-I'll admit I'm focused a lot on food these days (see the bagillion confessions on the topic above) and the pounds are much slower to come off, but I'm being patient and realize I still have a long way to go but have come a long way at the same time.
-Work is good, but busy. I spoke too soon when I wrote my end of January
post
. We'll see if slows down anytime soon.
-I haven't dusted a few pieces of furniture in months. Gross.